Border Wedding Invitations
Jeweled Love
Pearl flourishes and metallic border make this invitation, simply stunning.
$253.90 per 100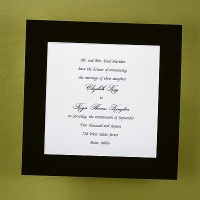 Bordered in Black
The wide black border of this card is the perfect compliment to the bright white design, which is topped off perfectly with the white satin bow.
$170.90 per 100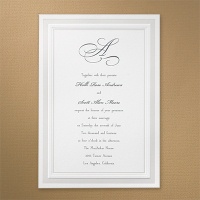 Enchanting Borders
This elegantly embossed invitation comes complete with pearlized border and your choice of monogram, which is placed at the top of the invitation. Simply beautiful!
$177.90 per 100
Borders of Gold with Ribbon
Customize this ecru invitation card featuring gold borders and a satin ribbon in the color of your choice. Ecru, Navy (shown) and Gold. Enclosures, sold separately, match the gold border design in the invitation card.
$470.00 per 100
Lace Embrace
This white shimmer invitation is covered with a lacey style border that reflects a beautiful charm.
$210.90 per 100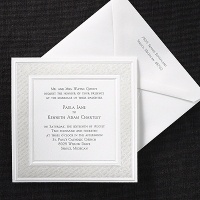 Fanciful Filigree
Gorgeous wedding invitation featuring an elegant pearl filigree border. This unique square wedding invitation will be perfect for any type of wedding.
$164.90 per 100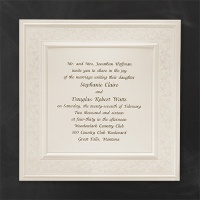 Intricate Beauty
In a class by itself, this elegant square, ecru card features a refractive pearl filigree band. This is a very classic and traditional wedding invitation.
$174.90 per 100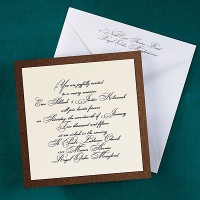 In the Spotlight Invitation
This invitation features a brown shimmer base card with an ecru, printed invitation.
$209.90 per 100
Pearl Escape
This elegant wedding invitation features pearlized borders and a square bright white invitation card. The invitation wording fits neatly within the pearl borders.
$149.90 per 100