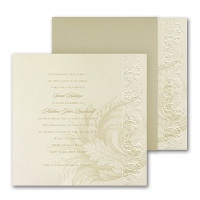 Golden Splendor
Feathery flourishes of gold and embossing adorn this ecru shimmer card when it is removed from the gold shimmer pocket.
$374.90 per 100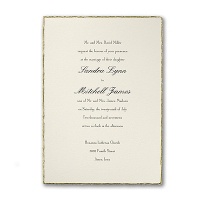 Deckled in Gold
This ecru invitation with golden deckled edges will announce any occasion beautifully.
$189.90 per 100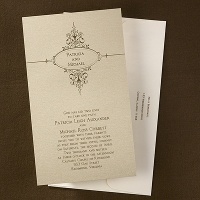 Regal in Gold
This classy invitation features a shimmery golden design that will be sure to leave a long lasting impression on your guests.
$174.90 per 100
Golden Style
This striking invitation features a unique golden wrap with a filigree design. The bride and groom's initials along with the wedding date are smartly placed on the right-hand side. The rest of the wording is placed under the intricate flap.
$279.90 per 100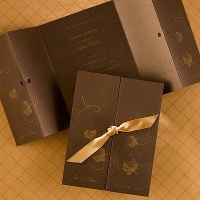 Falling Leaves Gate-Fold Invitation
This rich mocha gatefold invitation features a falling leaf design on the front and is tied together with the ribbon in the color of your choice. Falling leaves design is only available as shown and will always be printed in the same ink color as your wording.
$207.90 per 100
Wrapped in Gold
This ecru base invitation features a filigree design and is wrapped with a gold pocket featuring a rectangular seal.
$246.90 per 100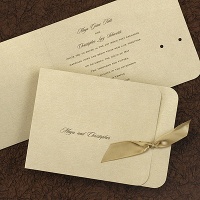 Royal Gold Invitation
Very elegant gold wedding invitation featuring your verse printed on the inside with your first names printed on the cover. It is all tied together with a golden satin ribbon.
$325.00 per 100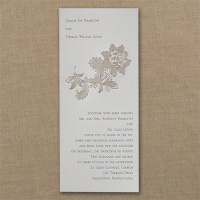 Embellished in Gold
A golden, shimmer, tea-length invitation card features a beautiful flower design adding texture and depth. Matching enclosures feature a similar floral design and are sold separately. Try adding extra embellishments such as self-adhesive pearls!
$188.90 per 100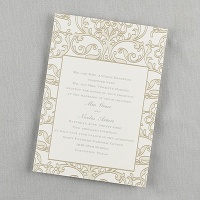 Swirls of Pearl and Gold
Swirls of pearl and gold embellish this ecru card. Customize with your choice of lettering style, ink color and custom verse to be printed in the center. Matching enclosures are sold separately.
$239.90 per 100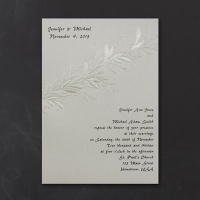 Embossed Vines on Gold Shimmer
Perfect for an elegant fall or spring wedding this gold shimmer invitation adds a touch of class to your gala! Sweeping embossed vines and gold leaves separate your names and event date from the invitation copy.
$188.90 per 100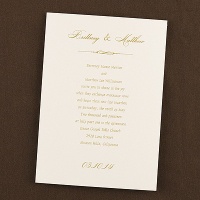 Down-to-Ecru
This simple card features an ecru background paired with a classic font in gold print. Select your own motif with this attractive card.
$107.90 per 100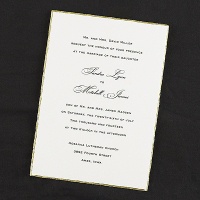 Deckled in Gold
The golden edge around this ecru invitation is a beautiful choice for any special occasion.
$184.90 per 100