Wedding Invitations With Flowers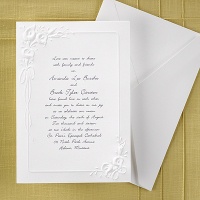 Calla Lilies and Ribbons
This bright white invitation has embossed calla lilies displayed on two corners of the invitation.
$89.90 per 100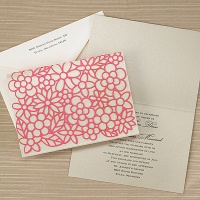 Fuchsia Floral Laser Cut in Cocoa
This gold shimmer card features a fuchsia die-cut overlay.
$330.90 per 100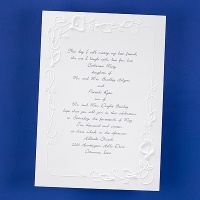 Borders of Calla Lilies
Featuring embossed calla lilies, which surround your wedding invitation wording, this card is perfect for any bride-to-be that loves these beautiful flowers.
$126.90 per 100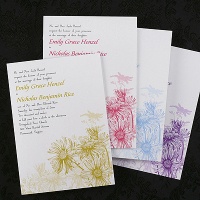 Wildflower Invitation
This bright white casual wedding invitation has wildflowers as the main accent. Background colors available: Brass, Cornflower,Grapevine and Lipstick.
$106.00 per 100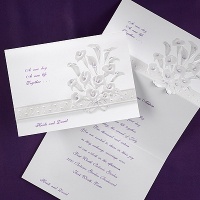 Passionate Lilies
Enjoy a brilliant arrangement of calla lilies featured on this z-fold invitation. The front of this invitation includes small, embossed hearts and a quote of your choice along with your first names.
$179.90 per 100
Joyful Blooms
Joyful blooming flowers are shown on this layered card that is enclosed with a pocket.
$382.00 per 100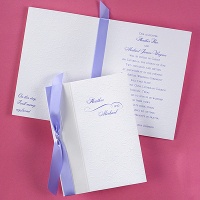 Never-Ending Floral
This floral invitation features a bright white background and your choice of monogram. Place a verse of your choice on the inside left panel.
$196.90 per 100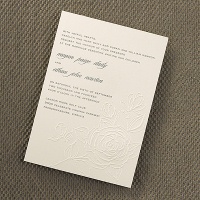 Embossed Roses on Ecru
Pretty roses are embossed on an ecru card with your custom wording printed flush left. Matching enclosures are vertical and your wording will be centered. Matching enclosures are sold separately.
$184.90 per 100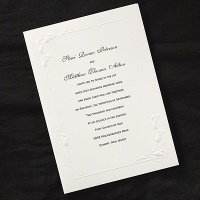 Elegant Calla Lilies
The deeply embossed calla lilies on this card provide an elegant and lovely appearance when paired with its pure white folder.
$98.90 per 100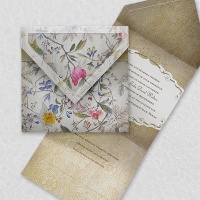 Florentine Tapestry Invitation Wedding
A floral tapestry design is shown on this trifold invitation.
$257.90 per 100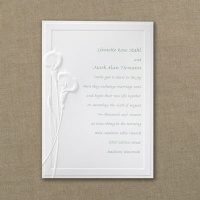 Bridal Bliss
Show your passion for calla lilies with this lovely invitation, which can be customized to include your choice of ink color and a matching envelope liner. The invitation wording is printed to the right of the calla lilies.
$125.90 per 100