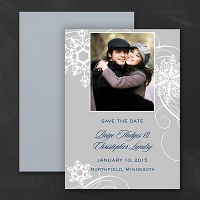 Spinning Snowfall Save the Date
A snowflake design along with your photo is shown on this save the date magnet.
$145.90 per 100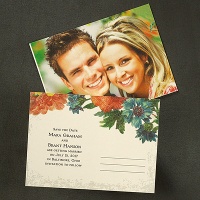 Rustic Garden Save the Date Postcard
Bright garden flowers are shown on this save the date postcard and features your photo.
$116.90 per 100
we do! Save the Date
Save the date with this bright white, z-fold save the date card featuring a unique, contemporary design. "we do!" and "save the date" are part of the design and will change with your ink color. The swirl design will always be printed in grey as shown.
$70.90 per 100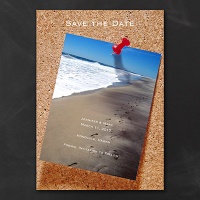 Tacked to Remember
This unique save the date announcement has a beach photo on a corkboard with a red tack, preparing your guests for a get-away wedding!
$124.90 per 100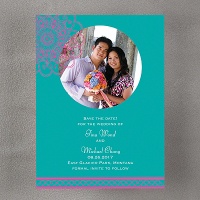 Bombay Beauty Save the Date
A teal and fuchsia designed card featuring a photo of the engaged couple.
$136.90 per 100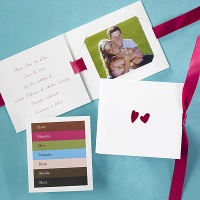 Double Hearts
This Save the Date card features a photo of the happy couple while also providing the wedding details on the left side panel.
$149.90 per 100
First Dance Scratch Off
This Save the Date Minnie and Mickey scratch off features the happy Mouse couple sharing in a first dance.
$168.90 per 100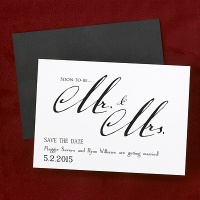 Soon-to-be Married
Tell the world about your upcoming special day with this Save the Date card, featuring a bright white background and a verse that is available as shown.
$110.90 per 100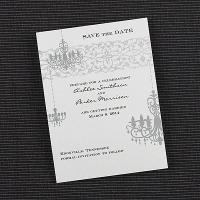 Silver Chandelier
This elegant Save the Date card features an attractive filigree design and silver chandeliers that are certain to capture the hearts and attention of your wedding guests.
$109.90 per 100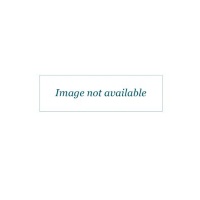 Just Lovely
This photo save the date is just lovely and charming with touches of foil to announce when your big date is. Select a trim option to make it one of a kind.
$214.90 per 100