Beach Wedding Invitations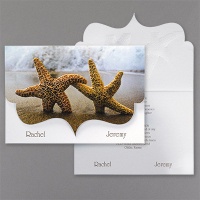 Beach Loving Invitation Wedding
Two starfish hand in hand are shown on this beach designed, shimmery invitation.
$247.90 per 100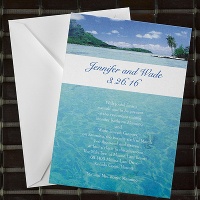 Tropical Ocean
This serene full-color invitation features a romantic ocean scene perfect for a destination or beach wedding!
$170.90 per 100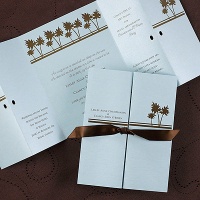 Palms of Aqua
Create a unique look for your romantic getaway with this aqua z-fold invitation featuring a palm tree design printed in the same ink color as your wording. Tie it all together with the ribbon color of your choice.
$207.90 per 100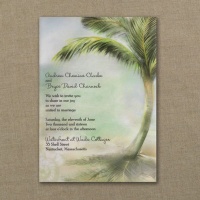 Translucent Tropics
A palm tree with an ocean backgound is displayed on this translucent invitation.
$154.90 per 100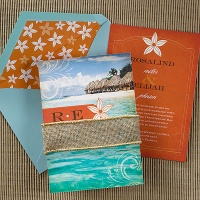 Ocean Breeze Invitation
A picturesque ocean scene is shown on this two-sided card with a burlap band around it.
$178.90 per 100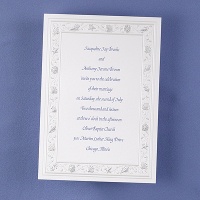 Hint of Blue
The beach design of this card is quite subtle, with hints of blue that help accentuate the suggestive seashells along the border.
$148.90 per 100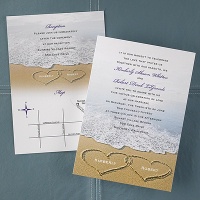 Love on the Beach
Value style and save with this bright white invitation card. Your reception information listed on the backside of the invitation with the option to add directions to your reception and a separate respond card.
$146.90 per 100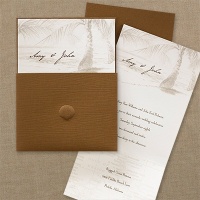 Sea Shell Destination
This ecru invitation card features a classic sepia tone, beach design. For the finishing touch tuck it away into a tan pocket featuring an embossed sea shell design on the front.
$259.90 per 100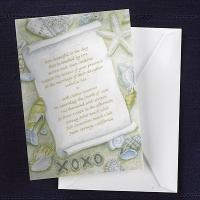 Wedding at the Beach
The bright white translucent invitation will set the tone for your wedding at the beach.
$154.90 per 100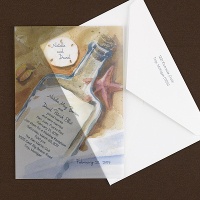 Message in a Bottle
Put your wedding message in a bottle and send it off to sea with this unique invitation. The invitation is printed on translucent paper, which makes it even more interesting to wedding guests.
$129.90 per 100
Island Bliss
Are you planning a destination wedding? Soothe your guests' moods with this white invitation featuring a colorful palm tree and beach scene. Choose your own lettering style and ink color for the invitation wording, which will be centered below the palm tree.
$129.90 per 100